Directorio Bilingüe • Bilingual Directory
Washington State Department of Health
Our programs and services help prevent illness and injury, promote healthy places to live and work, provide information to help people make good health decisions and ensure our state is prepared for emergencies.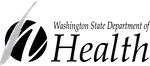 We help ensure a safer and healthier Washington by:

Working to improve health through disease and injury prevention, immunization, and newborn screening.
Providing health and safety information, education and training so people can make healthy choices.
Promoting a health and wellness system where we live, learn, work, play and worship.
Addressing environmental health hazards associated with drinking water, food, air quality and pesticide exposure.
Protecting you and your family by licensing healthcare professionals, investigating disease outbreaks and preparing for emergencies.